Gdańsk Main Town Hall Tower
🟢 open for public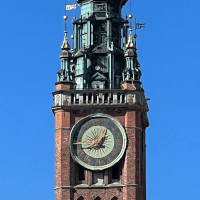 Gdańsk Main Town Hall is a historic Ratusz located in the Gdańsk Main City. The oldest fragments of the town hall come from 1327 to 1336 - the building was then much smaller in size, which led to its expansion in the subsequent years. The tower was completed by Michał Enkinger, with a high dome in 1492. In 1561, a gilded statue of the then reigning Polish King Sigismund II Augustus was placed at the top of the tower and a carillon was installed in the tower. The tower is the second tallest building in city.
Poland, Gdańsk, Województwo pomorskie
Height: 83 m
Lookout
Historic part of the city, especially the Royal Route.